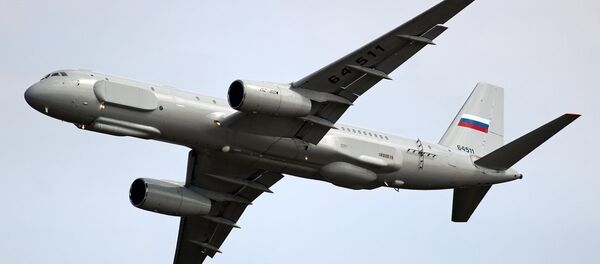 31 October 2015, 14:13 GMT
Russia's military modernization program and impressive improvements within conventional forces arsenal, especially its signals intelligence (SIGINT) and electronic warfare (EW) capabilities have apparently come as a big surprise to Washington.
In Syria, Russia has supposedly deployed two Electronic Intelligence (ELINT) and SIGINT aircraft, which "may be gaining the envy of some in Washington", according to Caitlin Patterson, a veteran of the US Marine Corps where she served as Cryptologic Linguist and Signals Intelligence Analyst.
One of the planes is Ilyushin Il-20 surveillance aircraft, "Coot" in NATO code.
"The Il-20 comes packed with an array of sensors, antennas, IR (Infrared) and Optical sensors, a SLAR (Side-Looking Airborne Radar), and satellite communication equipment for real-time data sharing," Patterson describes the aircraft.
The Il-20 is a military version of the Il-18 passenger airplane. It was designed for intelligence gathering with its distinguishing features being the Igla-1 phased-array SLAR pod under the forward fuselage, housings for A-87P LOROP cameras and the Romb 4 sigint system, according o the GlobalSecurity.com website.
Two antennas also protrude from the top of the fuselage for the Vishnaya communications intelligence gathering system.
It is flown by a crew of five accompanied by eight mission specialists.
The plane is believed to regularly perform long-range reconnaissance missions in the Baltic region, flying in international airspace with its transponder turned off; a standard practice for almost all ISR (Intelligence Surveillance Reconnaissance) aircraft.
In Syria, the aircraft allegedly performed intelligence gathering missions, eavesdropping into Daesh militants communications, detecting their systems' emissions to build an Electronic Order of Battle of Daesh in the region, and pinpointing their positions, according to The Aviationist website.
Another aircraft is the newest Russian spy-plane, the Tu-214R. It has ELINT and SIGINT platforms on board.
The antennae of the Tu-214R can intercept the signals emitted by the enemy systems (radars, aircraft, radios, combat vehicles, mobile phones etc) so as it can build the EOB (Electronic Order of Battle) of the enemy forces: where the enemy forces are operating, what kind of equipment they are using and, by eavesdropping into their radio/phone communications, what they are doing and what will be their next move, according to The Aviationist.
© Photo : Wikipedia/Rimma Sadykova
Tupolev Tu-214R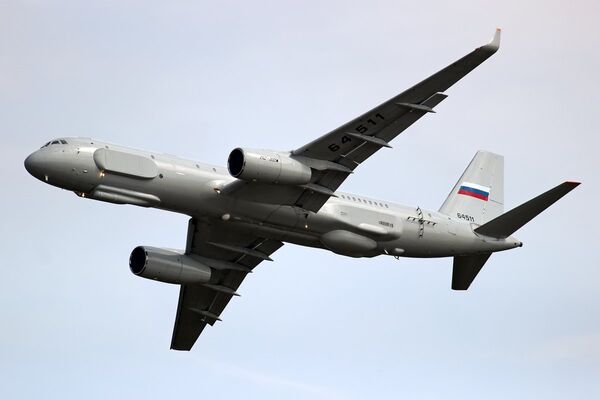 Tupolev Tu-214R
© Photo : Wikipedia/Rimma Sadykova
The Russian Tu-214R is a state-of-the art plane based on the Tu-214 commercial transport aircraft which was modified under the codename 'Project 141' to replace the Ilyushin IL20M ELINT.
The flight tracking website flightradar24.com reported that the aircraft could be tracked as it followed the eastern corridor from Russia, to the Caspian Sea and then to Syria via the Iranian and Iraqi airspaces.
​While it was still under development, the same Tu-214R aircraft flew what appeared to be an operative mission on Jun. 18, 2015, when it flew from the city of Kazan (the aircraft is built by KAPO,Kazan Aircraft Production Association) to Crimea and back, closely following the border between Russia and Ukraine, most probably testing some of its sensors against real targets.
​Previously, the aircraft was spotted flying near Crimea. While over the Caspian Sea, approaching the Iranian airspace, the Tu-214R performed a couple of 360° turns at 33,000 feet (10,000meters).
​"While it is natural for countries and militaries to keep evolving their technologies, Russia is investing quite a lot of capital to rapidly modernize its military forces, equipping its army to fight in tomorrow's battlefields," Patterson concludes.
"The US has been too focused on counter-insurgency doctrine, bogged down in conflicts from Iraq to Afghanistan, and the result has been a neglect of America's own SIGINT and EW capabilities for a conventional war with a power like Russia or China," she adds.
As evident with Russia's display of its new capabilities, the United States will have a lot of work on its hands to counter these developments if it wants to keep superiority in this emerging domain, she finally states.