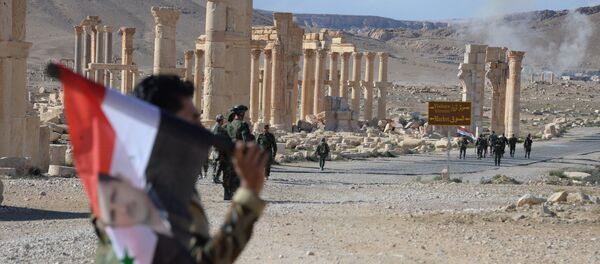 HOMS (Sputnik)
–
Four UNESCO employees from France and Lebanon arrived to the ancient city of Syria's
Palmyra
on Monday for a one-day trip to assess the historic part of the city that was liberated of terrorists in March, a Syrian Cultural Heritage and Museums source said Monday.
"Four UNESCO employees have arrived in Syria. Two employees from Beirut and two from Paris. They will look at the damage and conduct a preliminary analysis with our specialists. They'll be here for only one day," the source told RIA Novosti. 
After the liberation of Palmyra on March 27, Russia deployed its bomb squad and specialized robots to Syria in the next few days to demine the historic city. 
The head of Syria's group of scientists that began assessing the scale of damage told RIA Novosti earlier this month that the temples of Baal and Baalashamin and the Arch of Triumph could be restored by up to 80 percent. He also envisioned that the Lion of Al-Lat statue could be renovated. 
Experts plan to transport stones from the Al-Tar quarry near Palmyra in restoration works. The quarry is widely believed to be the source of building materials in ancient temples.