Hastert, 74, pleaded guilty last year to paying $3.5 million in hush-money to a man to keep the molestation secret. Law enforcement found that Hastert had sexually abused at least four boys while coaching sports at Yorkville High School in Illinois.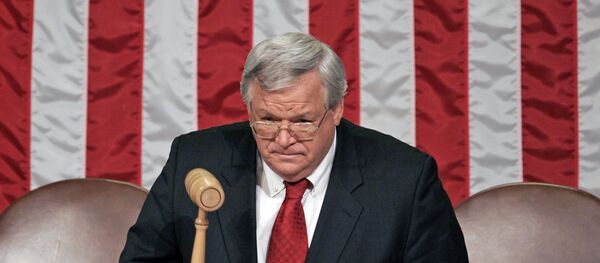 "Nothing is worse than using serial child molester and Speaker of the House in the same sentence," said the judge, who sentenced the Republican politician to nine months longer than the six-month sentence recommended by the prosecution.
"I hope I never see a case like this again," said the judge.
One of Hastert's victims, a high school athlete at the time, testified that he was "devastated" by what Hastert did to him while the two were alone in a locker room. 
"As a 17-year-old boy I was devastated. I tried to figure out why Coach Hastert had singled me out. I felt terribly alone," Scott Cross testified. "Today I understand I did nothing to bring this on, but at age 17, I could not understand what happened or why. I've always felt that what Coach Hastert had done to me was my darkest secret." 
"I wanted you to know the pain and suffering he caused me then and still causes me today. Most importantly, I want my children and anyone else who was ever treated the way I was to know that there is an alternative to staying in silence," Cross continued.
In addition to the molestation, the victims described how Hastert would sit in a recliner chair in the locker room and watch the boys as they showered.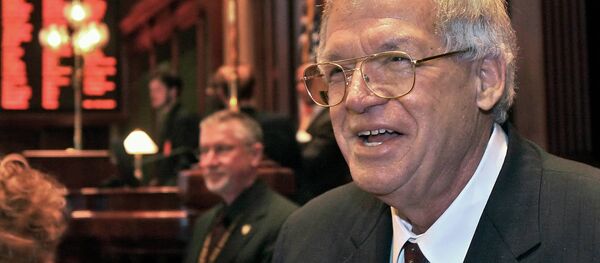 28 October 2015, 20:15 GMT
Hastert told the court that he was "deeply ashamed to be standing before you" and admitted he "mistreated" some of the athletes that he coached.
The lifelong Republican could not be charged for the abuse itself, as the statute of limitations had long passed.
"I am sorry to those I hurt and misled," he stated, adding, "What I did was wrong and I regret it."
The maximum sentence that he could have received was five years in prison. His attorneys sought probation, citing that he had already paid "a high price in disgrace." The defense cited health problems, as Hastert had a stroke last year and arranged to appear in court in a wheelchair.
"Decades of not just political achievement but acts of goodness and charity have been erased, a lot of it even physically, as his name has been removed from public places and his portrait at the Capitol put into storage," Hastert's defense attorney said.
In addition to the 15 months in prison, Judge Thomas M. Durkin ordered Hastert to attend sex-offender treatment, to be on supervised release for two years following his prison sentence, and pay $250,000 to a fund for victims. 
Over a decade ago, when Hastert was a powerful and respected Republican lawmaker, he called for harsh penalties for serial child predators as part of the Child Abuse Prevention and Enforcement Act of 2000.
"It is important to have a national notification system to help safely recover children kidnapped by child predators," Hastert said in 2003.
"But it is equally important to stop those predators before they strike, to put repeat child molesters into jail for the rest of their lives and to help law enforcement with the tools they need to get the job done," the former Republican politician turned lobbyist said.