PARIS (Sputnik) – A team of UNESCO experts, including Director of Heritage Division and the World Heritage Center Mechtild Roessler, conducted their assessment mission on April 24-26 escorted by UN security forces. They inspected Palmyra's museum and archaeological site.
"The mission considered that despite the destruction of several iconic edifices, the archaeological site of Palmyra retains a large part of its integrity and authenticity. UNESCO will work with its partners to adopt emergency safeguarding measures," the organization said.
The experts observed the "smashed to smithereens" Temple of Baal Shamin and the destroyed triumphal arch. They examined damages to the Temple of Bel and the Mamluk Citadel from a distance because the sites remained inaccessible due to incomplete demining operations.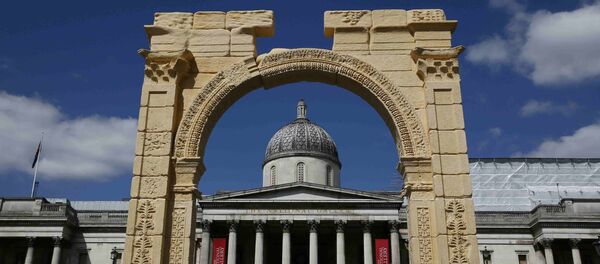 UNESCO said it planned to present a full report on Palmyra's destruction to the World Heritage Committee in July in Istanbul. Russian Research Institute for Cultural and Natural Heritage experts plan to submit a preliminary
report on their damage assessment
of the ancient city to UNESCO by July.
Forces loyal to the Syrian government with Russian Aerospace Forces support liberated Palmyra, one of six UNESCO World Heritage Sites in Syria, from Daesh on March 27, 10 months after its capture.