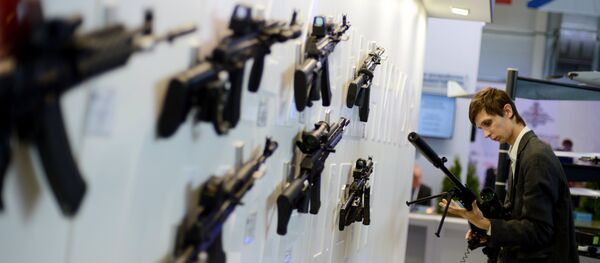 IZHEVSK (Sputnik) – The ministry is to make a choice between two assault rifles: the AK-12 produced by Kalashnikov Concern and the AEK-971 produced by the Degtyarev plant in the town of Kovrov, Central Russia.
"In the short run, field exploitation of both assault rifles will be launched, the decision will be made in fall. We take it seriously and hope to win," Krivoruchko said.
Earlier, Russian Deputy Defense Minister Yuri Borisov said that the rifle would be chosen during field tests which were to take place in all four military districts of the country in 2016.
Ratnik, referred to as a system designed for a "soldier of the future," includes 59 pieces of equipment, comprising firearms, body armor, optical, communication and navigation devices, as well as life support and power supply systems.
The infantry combat system, protecting nearly 90 percent of the soldier's body, is designed to improve Russian Armed Forces combat capability and connectivity.