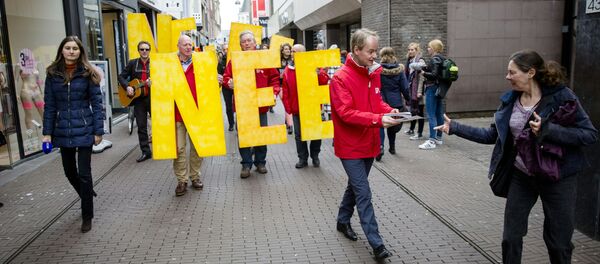 KIEV (Sputnik) — The summit was initially scheduled to be held in Brussels on May 19. Earlier on Wednesday, it was reported in the Ukrainian media that the summit had been postponed, citing a diplomatic source.
"The 18th EU-Ukraine summit has been postponed until September This was a balanced and pragmatic solution. The summit is not an aim in itself… It should demonstrate the results of [our] cooperation and integration with the EU," Kostiantyn Yeliseyev wrote on Twitter.
In 2014, the Ukraine–EU Association Agreement was signed. The deal establishes a political and economic association between the parties, as well as regulations across a broad range of areas, including a visa-free regime, the exchange of information by security services, and the modernization of Ukraine's infrastructure.
The agreement has to be ratified by all the EU member states. So far, only the Netherlands has not yet ratified the document.
Earlier this month, the Netherlands held a referendum on the agreement, with 61 percent of those who voted casting their ballot against it. The following week, the Dutch parliament rejected a proposal by the opposition to withdraw the ratification, providing the government with more time to consider the issue.
The first and only summit to date within the framework of the EU-Ukraine Association Agreement summit took place in Kiev on April 27, 2015.