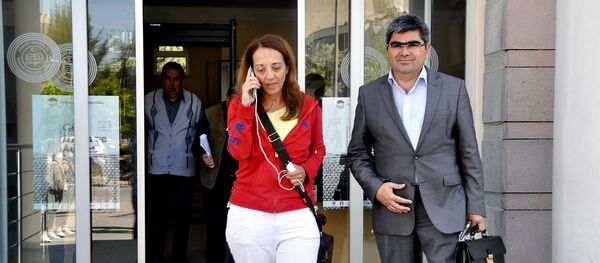 MOSCOW (Sputnik) — Turkey's press freedom stood at 71 in 2015, with 0 being the best and 100 being the worst. The level of media freedom in the country was assessed as "Not Free." This value represents a 6-point decline as compared to the previous year's rating.
"Media freedom in Turkey deteriorated at an alarming rate in 2015," Freedom House wrote in its report, noting that Turkey was among the countries that showed the greatest regression in press freedom that year.
"The government, controlled by President Recep Tayyip Erdogan's Justice and Development Party (AKP), aggressively used the penal code, criminal defamation legislation, and the country's antiterrorism law to punish critical reporting, and journalists faced growing violence, harassment, and intimidation from both state and nonstate actors during the year," the report reads.
Assessments of Turkey's legal, political and economic environments also showed regression as compared to 2014.
Turkey's crackdown on journalists and restrictions on freedom of speech have previously been criticized by the international community, including the United Nations, the United States, the European Union, Russia and the organization Reporters Without Borders (RSF).