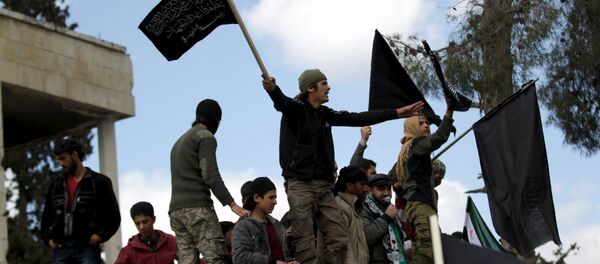 The report, already the second filed by the organization, suggests that the border area has become a hub for jihadists with
Daesh
and other terrorist groups enjoying complete immunity against prosecution.
The report quotes a source in the Turkish Interior Ministry as saying that when a Daesh member is detained he is never prosecuted even though the
Turkish law enforcers know he is a terrorist. This means that the Turkish officials are all too eager to send these terrorists across the border into Syria and make sure they don't come back.
"Jihadists from, say, Turkmenistan are issued Turkish passports and sent to Kayseri province. All this work is coordinated by the National Intelligence Organization of Turkey," the unnamed source said.
In an interview with Sputnik, Ali Ergin Demirhan, the group coordinator responsible for drafting the "Right to Life, Against War" report, said that this information had already been confirmed and added to what they already know about foreign jihadists' activity in Turkey.
"According to our source, the activity of foreign jihadists is coordinated by people some of whom receive instructions from the regional administration and others directly from the National Intelligence Organization. We have information about intelligence officers foreign tasked with sending jihadists and illegal refugees across the border," Ali Ergin Demirhan told Radio Sputnik.
According to the report, Turkey has stopped accepting some of the refugees coming in from Syria under the pretext that they are not entitled to temporary residence in the country. These people are held in Daesh-controlled areas in neighboring Syria.
"By doing so the Turkish authorities facilitate the work done by their immigration officials while, simultaneously using peaceful Syrian civilians as a human shield for the jihadists being flushed out by the Syrian army and Russian airstrikes," the report said.
"In these camps, set up in hard to reach areas, you will see the flags of the al-Nusra Front, Ahrar ash-Sham and Daesh terrorist groups. Camps like Atme or Yamadi located on the Turkish-Syrian border and controlled by Ankara are simultaneously used to train jihadists as part of the "buffer zone concept," Ali Ergin Demirhan summed up.