Proposals that rescue boats could be equipped with fingerprinting machines on the Mediterranean to screen migrants before they set foot on Italy's territory was announced by Italian Interior Minister Angelino Alfano following talks with EU migration commissioner Dimitris Avramopoulos in Sicily — where the majority of migrants are processed at "hotspots".
"With this we will now have hotspots at sea," Alfano said.
Fingerprinting hotspots are intended to speed up the process of identifying and registering refugees and are supported by the European asylum office (EASO), Frontex and Europol — the EU's border and law enforcement agencies.
Express my thanks to citizens of Catania, Sicily and Italy for treating all these desperate people with humanity and dignity. #refugeecrisis

— DimitrisAvramopoulos (@Avramopoulos) April 27, 2016​
Migrants are then separated into two different groups: those who have the right to claim political asylum and those who are classed as economic migrants and therefore cannot apply for international protection. Those in the second group are handed a refusal sheet and told to leave the country within seven days. If they are later found in the country, they risk ending up in an identification and expulsion center.
Only migrants from Syria, Iraq, Eritrea and the Democratic Republic of Congo will be eligible for relocation in another EU country. Migrants from other countries, such as Egypt, Tunisia, Morocco and Nigeria will be deported. 
© REUTERS / Antonio Parrinello
Migrants stand in line after disembarking from the Norwegian vessel Siem Pilot at Pozzallo's harbour, Italy, March 29, 2016.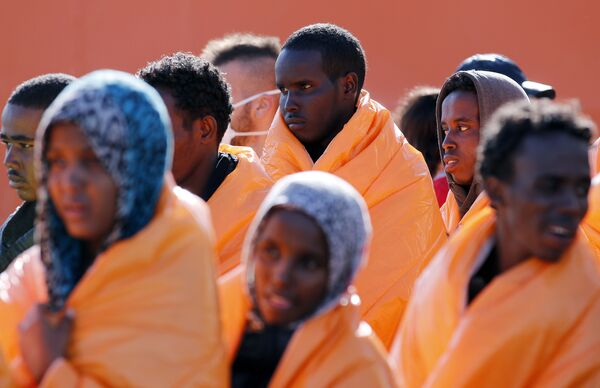 Migrants stand in line after disembarking from the Norwegian vessel Siem Pilot at Pozzallo's harbour, Italy, March 29, 2016.
Under EU immigration law, asylum seekers have to remain in the first European country they enter under the Dublin Treaty and must be registered and fingerprinted. They are only entitled to asylum if they are genuine refugees.
However, the issue of fingerprinting migrants arose as the refugee crisis took hold and it was revealed that many people evaded being processed and fingerprinted by Greek or Italian authorities – instead hoping to travel further on to northern Europe to apply for asylum elsewhere.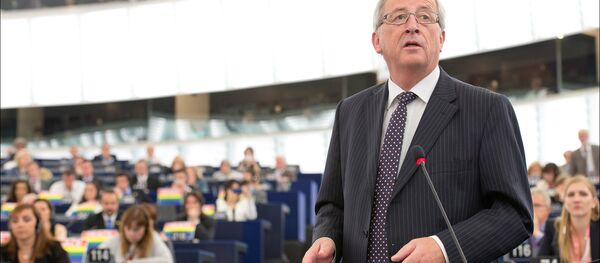 Human rights groups are concerned that forced fingerprinting at sea could lead to arbitrary detentions and unlawful deportations of migrants.
Protests also erupted last December among refugees when the European Commission (EC) insisted that Italian authorities should use force if necessary to obtain the fingerprints of all migrants in the country.
More than 350,000 people have arrived in Italy on boats from Libya since 2014.