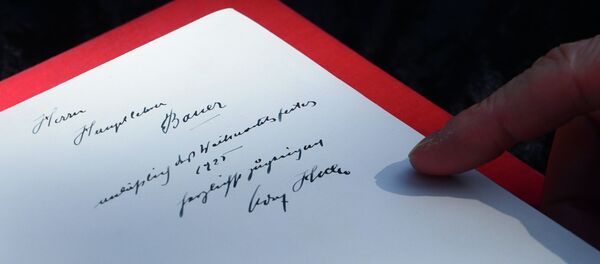 The book contains more than 3,500 scientific annotations and extensive explanatory introductions to each chapter and is designed "to thoroughly deconstruct Hitler's propaganda in a lasting manner and thus to undermine the still effective symbolic power of the book," according to the Institute for Contemporary History.
The opinions of the German politicians on the issue are divided. While Germany's Minister for Education Johanna Wanka earlier argued that the annotated version should be introduced to all classrooms across Germany to ensure that
"Hitler's comments do not remain unchallenged," representatives of the Jewish community in Germany have opposed the move.
For instance, former president of the Central Council of Jews and head of the Jewish Community of Munich and Upper Bavaria Charlotte Knobloch sharply criticized the plans to use the annotated version of "Mein Kampf" in schools.
"I think Hitler's antisemitic work of hatred is not a suitable basis for teaching," she said, cited by German Radio Bamberg. "I hope that the Parliament would come to the decision not to recommend 'Mein Kampf' as a suitable material for educational use," Knobloch stated.
Republication or redistribution of the original 600-page version of the book in the German language was previously banned by a German court. The annotated version is the first new edition of the book since 1945 printed in the country.