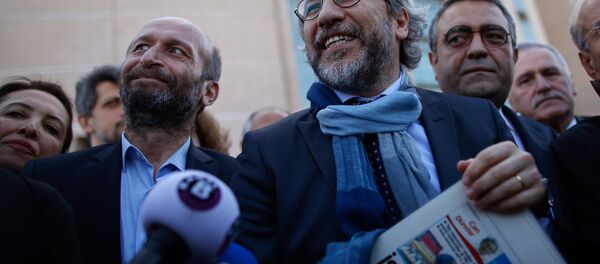 Hikmet Çetinkaya and Ceyda Karan, columnists from the Turkish newspaper Cumhuriyet, were sentenced to two years in prison for reprinting cartoons of the Prophet Mohammed published earlier by a French magazine Charlie Hebdo.
"This decision shows how acute the problem of the violation of freedom of speech in Turkey is. Obviously, that caricature which I posted as a sign of solidarity in my column has become a threat not to the public order, but to my personal safety and that of my fellow journalists," Çetinkaya told Sputnik.
The controversial cartoons were first released on January 14, 2015, after the editorial office of the French satirical magazine Charlie Hebdo was attacked by terrorists. Following the attack, illustrations were published by five other international editions, including Cumhuriyet.
"I don't know what they expected from me… That I say I didn't write this article with my name on it and that it was a mistake? That I would beg them to forgive me, promising never to do anything like that and behave like a good student? Never in my life have I sacrificed my principles and betrayed my profession," Çetinkaya said.
Both Çetinkaya and Karan were charged with "insulting religious values" and "inciting people to hatred and enmity." The court found them guilty and sentenced to two years imprisonment.
"This decision once again proved that there can be no room for freedom of expression and media in political Islam," Karan told Sputnik. "This is a tactic of pressure and intimidation of citizens who act in defense of Turkey's secular and republican values. We are not afraid, we have nothing to fear, because we have not done anything to be ashamed of," she added.
At the same time, Ahmet Abakay, Chairman of the Turkish Union of Journalists, viewed the court's decision as a sign of support for terrorism.
"This trial means that the judicial system and claimants who filed a complaint against the journalists are supporting the terrorist attack on Charlie Hebdo. Otherwise they would not have started the proceedings. The decision in this case means support for the terrorist attack. Turkish justice system failed the test of strength," Abakay said.
Earlier, the lawyer of the two said he will move for a new trial and, if necessary, take their appeal to the European Court of Human Rights.