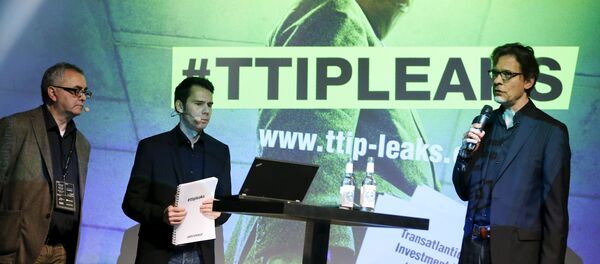 WASHINGTON (Sputnik) — The interpretation of the Transatlantic Trade and Investment Partnership (TTIP) deal documents, leaked over the weekend, has been deceptive, a spokesman for US Trade Representative Michael Froman said in a statement.
On Sunday, Greenpeace said it had obtained 248 pages of classified TTIP documents representing around two-thirds of the draft EU-US free trade deal. The documents expose the leading role of corporate interests in the agreement, as well as policies threatening the environment and public health, according to Greenpeace.
"While the United States does not comment on that validity of alleged leaks, the interpretations being given to these texts appear to be misleading at best and flat out wrong at worst," the spokesman stated.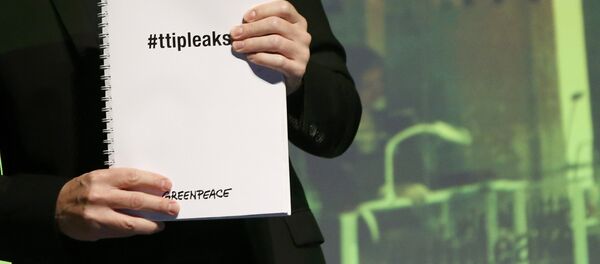 The US Trade Representative office said the TTIP deal, negotiated by Brussels and Washington, "will preserve, not undermine, strong consumer, health, environmental standards."
"We look forward to having a fact-based discussion about what TTIP seeks and does not seek to achieve," the spokesman added.
The TTIP trade deal has faced sharp criticism from activists and policymakers alike for the secretive nature of its negotiations. The agreement aims to deregulate trade between the United States and the European Union, which together comprise 60 percent of global production.