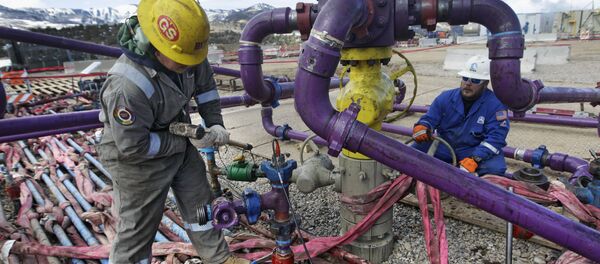 MOSCOW (Sputnik) — The reports come as the cities of Fort Collins and Longmont in northeastern Colorado have been engulfed in a legal battle with the Colorado Oil & Gas Association firm over attempts to bar the controversial drilling technique. In 2012, Longmont voters approved a ban on fracking, and a year after, Fort Collins passed a five-year moratorium on the practice.
According to the Wall Street Journal, the court ruled that the local measures against fracking "were preempted by state law and, therefore… invalid and unenforceable."
"It is clear that the Supreme Court has found that the Fort Collins moratorium on hydraulic fracturing is in operational conflict with Colorado law," Fort Collins reportedly said. However, the city's authorities are still said to be reviewing the ruling.
According to Longmont Mayor Dennis Coombs, the case "did not end as the city hoped."
Fracking is a process in which water mixed with chemicals is pumped underground at high pressure to break apart rock formations to release oil or natural gas to wellheads. Environmental groups have repeatedly warned that chemical residues left over from fracking could contaminate underground supplies of drinking water.
In 2015, some 40 percent of US respondents told research company Gallup that they supported fracking while the same percentage of those polled opposed it. This year, a similar poll revealed a rise in public opposition to the method, with over 50 percent of the US citizens saying they oppose fracking against 36 who support it.