"Ukraine doesn't need Crimea. Turns out it [Ukraine] doesn't need Donbass either, looking at how Ukraine treats it," Zakharova told Izvestia.
The point isn't whether Russia allegedly wants to have Crimea back, but it's about the will of the people in the peninsula who made their choice. Zakharova added that Ukraine should stop trying to revoke the result of the Crimean referendum.
"I remember how two years ago, during the Treaty of accession of Crimea to Russia, one Crimean resident said: 'We returned to Russia. Please never give us back,'" Zakharova said.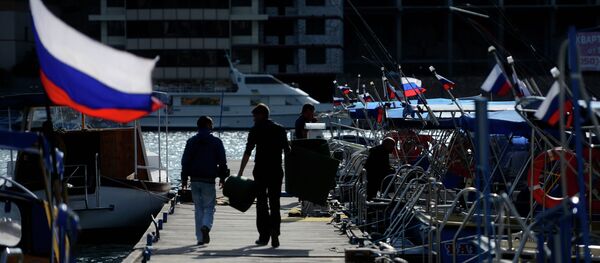 Zakharova also added that the words of Crimean Tatar leader
Refat Chubarov
, who promised a military scenario to "bring back Crimea" to Ukraine, are empty talk that doesn't have any real meaning.
When it comes to Turkey, Ankara is seeking revenge and that's why it is trying to stir sentiments in Crimea, pretending to bring up the issue of the Crimean Tatars, the Russian diplomat said.
"We [Russia] did everything possible to ensure that the differences we had with Turkey were solved at the negotiation table. But unfortunately, everything depends on the current Turkish leadership. My impression is that Turkey wants to recover the former power of the Ottoman Empire," Zakharova explained current Russo-Turkish relations.
The Crimean Peninsula reunited with Russia in March 2014 following a referendum, which saw more than 96% of voters backing the move to secede from Ukraine. The initiative came after Ukraine's legitimate president, Viktor Yanukovych, was ousted in a foreign-sponsored coup.