MOSCOW (Sputnik) — On April 4-26, the largest maritime drills led by US Naval Forces Central Command, dubbed the International Mine Countermeasures Exercise, which involved 30 nations from six continents, took place at major maritime choke points in the world: the Suez Canal, the Strait of Bab Al-Mandeb and the Strait of Hormuz.
"We have to counter any harmful and ill-intended passage through Strait of Hormuz. We warn the US and its allies against any threatening passage through Hormuz, for if it ever happens, we will have no other choice but act according to the 1982 Convention [of the United Nations on Law of the Sea]," Brigadier General Hossein Salami said, as quoted by Iran's Mehr news agency.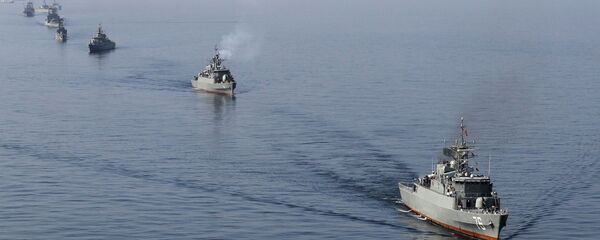 27 January 2016, 11:40 GMT
The Article 39 of the Convention guarantees free transit passage to the ships and aircraft avoiding any threat or use of force against the countries bordering the strait, as well as obliging them to respect territorial integrity, political independence and sovereignty of the bordering states.
Iranian supreme leader Ayatollah Ali Khamenei condemned the exercise on Monday demanding from the United States to explain the decision to choose the region to hold the drills.
The Strait of Hormuz accounts for almost one-third of the world's oil trade sea passages.