PALMYRA (Sputnik) — Russia and the post-Soviet states mark Victory Day annually on May 9, commemorating the millions of Soviet soldiers and civilians that died in the 4-year long war with Nazi Germany.
"This event is taking place as part of the celebration of Victory Day by the Russian people," Issam Khalil told RIA Novosti.
He stressed that the Victory Day echoed the victory over terrorism, which is largely equal to the Russian contribution in the fight against Daesh in Syria.
"This [concert] emphasizes the need to combat terrorism, which exposes the whole world to danger," Khalil said.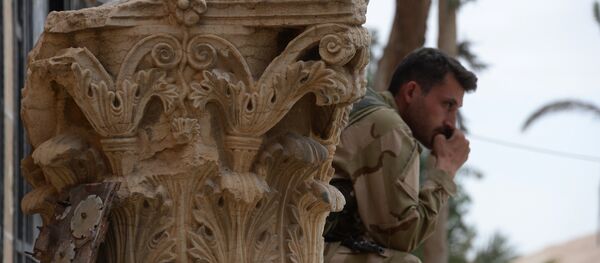 In March, Syrian government forces supported by the Russian Aerospace Forces
liberated Palmyra
from Daesh, 10 months after its capture. The terrorist group has destroyed a significant part of Palmyra's historic ruins, which are a UNESCO World Heritage site.
Earlier in the day, Syrian President Bashar Assad sent a congratulatory message to Putin ahead of the Victory Day, and praised the Russian contribution to the fight against terrorism.