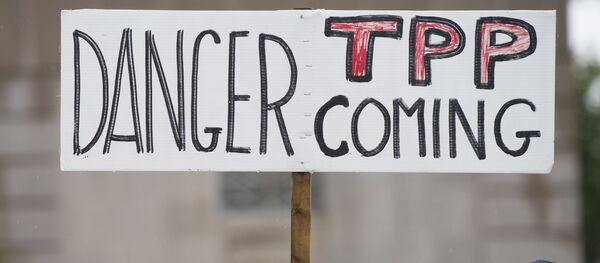 BEIJING (Sputnik) — The Trans-Pacific Partnership (
TPP
) pact was brought up during Beijing talks between China's Xi and a visiting delegation of Russian lawmakers, headed by lower-house State Duma speaker Sergei Naryshkin.
The TPP deal, which includes many members of the Association of Southeast Asian Nations (ASEAN), was agreed in February and is being ratified by national parliaments. When implemented, the free trade agreement will encompass 40 percent of the global economy.
"They have not extended an invitation to [join TPP] to Russia or China, which negotiators [in Beijing] believe is an attempt to promote within an inner circle the interests of just one global power," Alexei Pushkov, the head of State Duma's Foreign Affairs Committee, said after the talks.
Pushkov cited the Chinese president who had said that China wanted its economic growth to come hand in hand with that of other countries.