WASHINGTON (Sputnik) — "The main theater of the war right now is clearly the one around Aleppo," Syria expert and historian Helena Cobban said on Thursday. "It is a fact — as acknowledged on April 20 by the spokesman for the US military's Operation Inherent Resolve – that it is primarily the Nusra Front who holds Aleppo."
The US government attempted to include the al-Nusra Front in the new ceasefire agreement in Aleppo, but the Russian government insisted on excluding the Islamist movement as unacceptable, Russian Foreign Minister Sergei Lavrov told Sputnik in an exclusive interview on Wednesday.
Cobban pointed out that the US media presented a distorted picture of the fighting in Aleppo.
"The picture presented is that it is the 'heroes' of the mainly secular Syrian opposition who are facing an onslaught from the Syrian government forces and their allies… But most of the anti-government forces there are Nusra ones, with perhaps a small presence of non-Nusra ones," she explained.
The Obama administration has tried to play down in the US media the dominant role of the al-Nusra Front in the fighting in Syria, Cobban observed.
"The preponderance of Nusra Front units among the anti-government forces around Aleppo has been very embarrassing to Washington," she noted.
Cobban also said US Secretary of State John Kerry flew to Geneva earlier this week to persuade al-Nusra Front's main backers in Saudi Arabia and other Arab states to try to persuade the group to keep a low profile around Aleppo.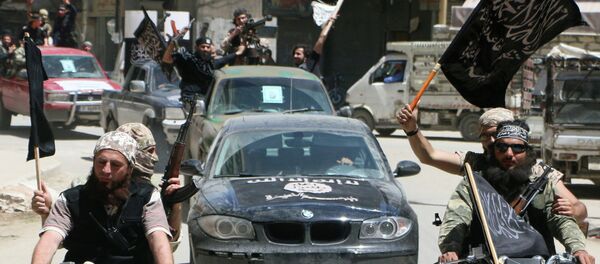 However, "It seems unlikely to me that he will succeed in this," she commented.
Even the US State Department admitted that the al-Nusra Front and its parent organization al- Qaeda had infiltrated their forces with the so-called "moderate" rebels, New York-based foreign affairs analyst Joe Lauria said.
"The State Department admits that many of its so-called moderate rebels fight side-by-side with al-Qaeda – 'intermingled' is the word the State Department uses. They say they are trying to separate them, but no one believes it's really possible," he said.
The opposition groups fighting in Syria were chaotic and intermingled with each other, Lauria pointed out.
"The jihadist insurgency in Syria is a cesspool. There are about 1,500 different rebel groups, and only about 100 agreed to the ceasefire. Fighters regularly change sides. Many are foreign mercenaries who will fight for the highest pay," he observed.
US policy on Syria with its obsession about overthrowing President Bashar Assad was based on assumptions five years out of date, Lauria said.
"It's a policy on Syria that is stuck in 2011. It's not the same country anymore. And it's not the same war," he added.
The conflict in Syria had long ceased to be a popular uprising and instead is a war of foreign Islamists backed by the Gulf states, Turkey and the United States, Lauria concluded.