LONDON (Sputnik) – Out of the 124 total councils, Labour now holds 25, the Conservatives hold 13, and the Liberal Democrats hold two, according to The Telegraph.
The chief executive of Local Government Information Unit (LGiU) Jonathan Carr-West told The Telegraph that "It's looking like a bad night for Labour, dropping into third place in Scotland [parliamentary elections] and losing hundreds of council seats."
According to BBC's Laura Kuenssberg, Labour's share of the votes is down by five percent on 2011 and down by eight percent on 2012, although compared to 2015 results, it is up three percent.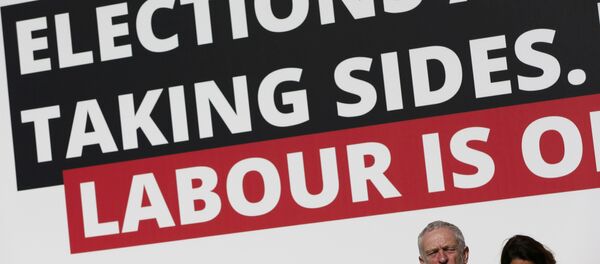 According to the Press Association, the first results from the Scottish Parliament election show that Labour has three losses, while the Conservatives have one seat (a gain), the Liberal Democrats have two seats, while the Scottish National Party (SNP) has seven seats, including two gains.
Local elections were held across the United Kingdom on Thursday. Results from council elections and the Scottish Parliament are expected before Friday morning. Results of London Assembly elections and the announcement of the new Mayor of London are expected by Friday afternoon.
According to The Telegraph, Labour could lose a total of 100 seats, partly because of the recent anti-Semitism scandal.
Last month, Labour parliament member Naz Shah was suspended over anti-Semitic Facebook posts. Former London mayor Ken Livingstone defended her claiming that Hitler was a supporter of Zionism. He was subsequently suspended from Labour because of the comments.