TOKYO/MOSCOW (Sputnik) – North Korean leader Kim Jong Un vowed not to use nuclear weapons unless its sovereignty is violated in a speech at the long-anticipated ruling party congress Sunday.
"As a responsible nuclear weapons state, our Republic will not use a nuclear weapon unless its sovereignty is encroached upon by any aggressive hostile forces with nukes, as it had already declared, and it will faithfully fulfil its obligation for non-proliferation and strive for the global denuclearization," Kim said in a report published by the North Korean Rodong Sinmun daily.
The seventh Workers' Party of Korea congress, held for the first time since 1980, nominated Kim for the top party post earlier in the week.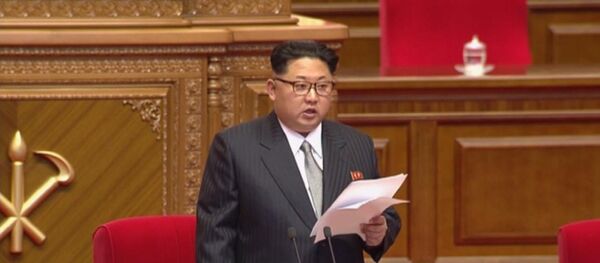 On Friday, he hailed the country's successful nuclear test and satellite launch, "boosting the country's dignity and national power."
Tensions on the Korean Peninsula escalated after North Korea carried out a nuclear test – allegedly a hydrogen bomb test – in early January and put a satellite into orbit a month later which violated UN Security Council resolutions and triggered condemnation from the international community.
In March, the UN Security Council unanimously adopted Resolution 2270, which severely restricted Pyongyang's engagement in commercial activities that could benefit its nuclear or missile programs.