In his interview for Der Spiegel, Schmidt said that the trade agreement, already sparking a decent amount of controversy, does not provide significant concessions to German food producers, offering minor concessions to the automotive sector instead. 
"We won't sacrifice our high food safety standards in a barter trade for approval of European car blinkers," he said.
"One has nothing to do with the other," he said. "There won't be any such horse-trading."
While both red amber and red car blinkers are allowed in the US, the exact specific color of "amber" differs slightly between the markets. This can be viewed as an illustration of the extent of "concessions" proposed in TTIP.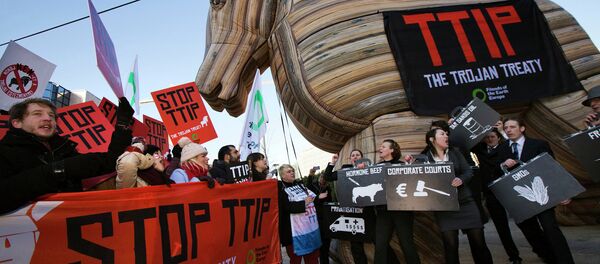 This trade agreement has been backed by German Chancellor Angela Merkel who claimed she "will do anything to conclude negotiations" before the end of this year. Such support was called "really striking" by Austrian politics expert Stefan Haderer.
Earlier, French politicians joined hands in their struggle against the agreement, with French President Francois Hollande going as far as threatening to reject the agreement in its current form, because it promotes "unregulated free trade". According to French environmentalists, should France sign the agreement, it will "sacrifice French agriculture to get access to the US procurement market."