MOSCOW (Sputnik) — During the marches, people carry photographs of their ancestors who participated in the war.
The first Immortal Regiment march took place in 2012 in Tomsk at the initiative of local TV journalists. About 6,000 marched along the city's central street with 2,000 photos of war veterans.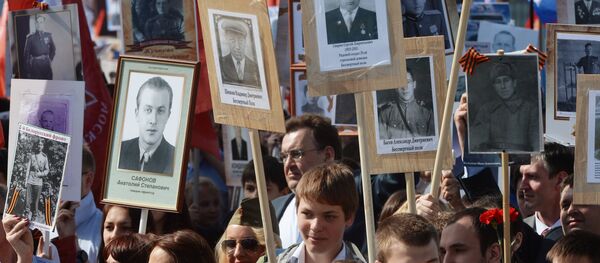 A year later, owing to volunteer regional coordinators, another 120 cities and towns in Russia and several former Soviet republics held Immortal Regiment marches as well.
The total number of participants reached about 180,000 in 2013 and grew to half a million on May 9, 2014, as Immortal Regiment marches took place in more cities and villages, after which this civil initiative became part of the federal program on preparations for the celebration of the 70th anniversary of the victory in WWII.
On May 9, 2015, the march on Tverskaya Street and further to Red Square in Moscow was led by Russian President Vladimir Putin, who carried a portrait of his father, a war veteran. According to official data, over 500,000 people took part in the Immortal Regiment march in Moscow alone. The number of participants across the whole of Russia exceeded 12 million.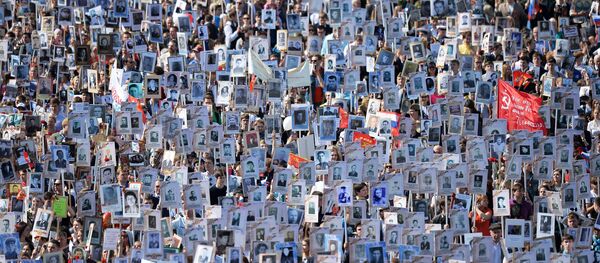 In January 2014, the Ministry of Justice Department for the Tomsk Region registered the inter-regional historical-patriotic Immortal Regiment movement. The movement's Tomsk Coordination Center maintains contacts with activists in more than a thousand cities and villages in Russia and 33 countries.
The movement publishes online People's Chronicles that contain over 300,000 accounts of events in the lives of war veterans.
The Immortal Regiment-Moscow regional patriotic public organization was registered in March 2014. The movement runs an online Memory Book (over 150,000 biographies).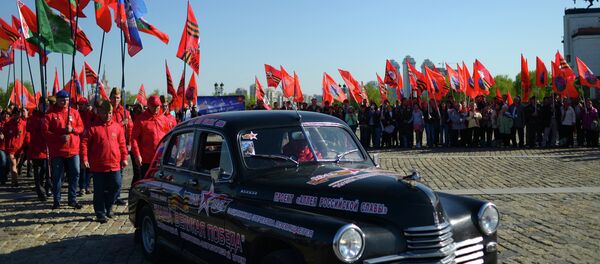 The Immortal Regiment of Russia, a national public civil-patriotic movement, was registered on October 5, 2015. The representatives of 60 Russian regions initiated its formation at their congress in Vyazma, a city of military glory in the Smolensk Region on June 2, 2015.
Speaking at a session of the Victory Organising Committee in early April 2016, the Russian president noted that the Immortal Regiment was an "absolutely honest and sincere project" that should retain these qualities and develop freely.
Brisbane (Australia), San Juan (Malta) and Zurich (Switzerland) join the initiative on May 9, 2016 for the first time.