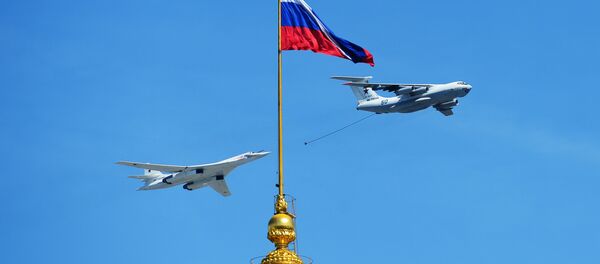 During
a military parade
on Moscow's Red Square,
RT's 360-degree panoramic camera
captured footage from a Mi-8АМТSh helicopter and a Sukhoi Su-27 fighter as well as Koalitsiya SV and Msta-S self-propelled howitzers.
The special VR format allows viewers a chance to get a first-hand experience of the job of a military pilot or the commander of an artillery vehicle.
Earlier, RT became the first TV channel to offer a live 360-degree broadcast of the Victory Day parade rehearsal using a special, fully immersive panoramic camera.
On the morning of May 9, an RT operator was inside the Msta-S, a self-propelled howitzer, where he videotaped the military unit's journey down Moscow's Tverskaya Street.
One of the most modern armored vehicles, the Koalitsiya-SV, which was developed at the Nizhny Novgorod-based Research Institute Burevestnik, was presented on Russia's famous Red Square during the military parade.
An airshow, which became the most spectacular part of the parade, opened with the flyover of four Mi-8AMTSh military transport helicopters and a Mi-26 transport helicopter. In the 360-degree video, you can view Red Square from the cockpit of one of the Mi-8AMTSh helicopters.
A total of 71 helicopters and planes flew over Red Square during the parade, a number that coincided with the 71st anniversary of Nazi Germany's defeat in the Second World War. This video shows the flyover of the Su-27 fighter jet piloted by Lieutenant Colonel Oleg Yerofeyev.
The parade culminated with six Su-25 frontline bombers spreading smoke in the colors of the national flag of Russia.
On May 7, a dress rehearsal of the parade was held on Red Square, with RT launching a live 360-degree broadcast of the event.
This video shows the night rehearsal of the parade, as seen from the cabin of a Tiger-M Russian armored vehicle.
Another video presented by RT shows a parade rehearsal which enables a viewer to see how a pilot of the Su-27 fourth generation fighter feels during an aerobatic performance of the Russkiye Vityazi group.
Preparations for the Moscow Victory Day Parade began three months ago, with the best servicemen collected from all across Russia and trained at the Alabino shooting range near Moscow. This video was shot from the cabin of a T-90 Russian battle tank during the training process in Alabino.