NEW DELHI(Sputnik) — As part of India's strategy to increase its sphere of influence in the Indian Ocean three Indian warships INS Delhi, Tarkash and Deepak have anchored in Dubai to bolster the strong bonds of friendship between India and UAE. Both countries will perform a joint naval exercise as well.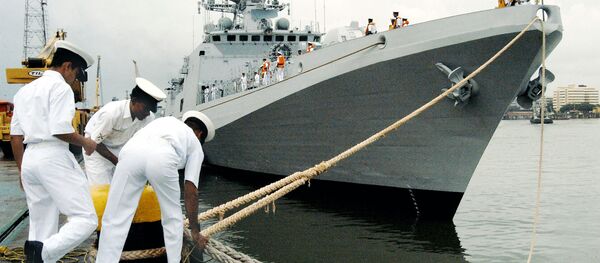 UAE is crucial for India's maritime strategy in the Indian Ocean. Apart from India, UAE is also member of the Indian Ocean Naval Symposium which has served as a forum for sharing information and cooperating on maritime issues. India has been pushing for a greater role for the Indian Ocean Naval Symposium which needs the requisite political will.
In the region, where the balance of naval forces is changing with the increasingly prominent presence of the rapidly modernizing Chinese Navy, India wants the Indian Ocean Naval Symposium to work towards providing a stable maritime order.
Therefore, India-UAE maritime cooperation is essential to address the maritime challenges in the Indian Ocean.
"The Indian Ocean Region has assumed higher strategic profile in recent times although its geographical location has been critical for global shipping since time immemorial. The Indian government is also placing considerable emphasis on institutional arrangements due to the geostrategic importance of the region with the arrival of major extra-regional powers such as China," former ambassador to Philippines, Yogendra Kumar told Sputnik.
India-UAE defense cooperation will be further strengthened due to the upcoming visit of Defense Minister Manohar Parrikar to UAE, which will take place on May 18.