Former Turkish Prime Minister Ahmet Davutoglu brokered the deal with the EU to allows for "irregular migrants" — those not meeting the criteria for asylum in the EU — to be returned to Turkey, in exchange one-for-one for Syrian refugees to be relocated from Turkey to EU member states.
In return, Turkish citizens would be allowed visa-free travel within the Schengen area and Turkey's accession into the EU would be accelerated. Davutoglu — who has since been sacked by Turkish President Recep Tayyip Erdogan — demanded visa-free access be agreed by the end of June.  
Part of the deal is that Turkey passes legislation to meet 72 demands from the EU, covering various areas, including a loosening of its controversial anti-terror law that has been used to target journalists and academics, a condition which Erdogan has refused to commit to, according to German Interior Minister Thomas de Maiziere.
Quoted in the German Bild newspaper, de Maiziere said Erdogan was: "not ready to meet the criteria.
"If they are not met, there would be no visa-free travel."
'Not Fulfilled'
In a sign that Erdogan is increasing the pressure on the EU, one of his advisers, Burhan Kuzu, tweeted: 
"If they make a wrong decision, we will send off the refugees," by which he meant that if visa-free travel was refused, then the migrant-swap deal would be off, potentially releasing a flood of migrants across the Aegean Sea.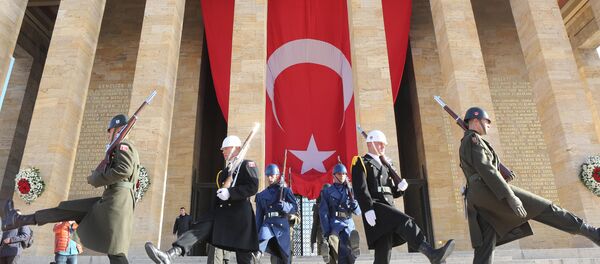 Meanwhile, Schulz is due to have talks in Strasbourg with Bozkır, amid severe criticism of the deal within the European Parliament.
Lawmakers have said they will block the deal on visa-free travel unless its conditions are met. However, with the June deadline set by Turkey looking shaky, Schulz is attempting to push the deadline back to October.
He told German broadcaster Deutschlandfunk Wednesday (May 11):
"My task is to check if the if the legal requirements for a parliamentary discussion are fulfilled. My result is: they are not fulfilled."
Liberals & Democrats group leader in the European Parliament Guy Verhofstadt, is particularly concerned by Turkish anti-terrorism legislation, which is being used to silence Turkish and foreign journalists who are critical of Erdogan.
Anti-terrorist laws are used in clampdown on journalists in #Turkey. If that doens't change, @europarl shouldn't approve visa liberalisation

— Guy Verhofstadt (@GuyVerhofstadt) May 4, 2016​
"Press freedom and freedom of expression are fundamental values of the European Union. In recent years these anti-terrorist laws have been used in a brutal clampdown on Turkish and foreign journalists by the Turkish government. As long as this remains the case, the European Parliament should not support this proposal for visa liberalization," he said. 
"Erdogan should show his goodwill by dropping charges against the German comedian Jan Bohmermann and letting the Dutch journalist Ebru Umar return home. He should also stop prosecuting over 1800 other journalists."