WASHINGTON (Sputnik) — The United States and its NATO allies integrated a ground-based Aegis battle management system into a planned missile defense network for Europe, a key step toward deploying interceptors capable of blocking nuclear capable rockets aimed at the continent, Commander of US Naval Forces Europe-Africa Adm. Mark Ferguson told guests at a ceremony in Romania on Thursday.
"We have been working towards this day since President Obama's commitment in September, 2009 to the European Phased Adaptive Approach," Ferguson said. "From the selection of this site in 2011 and initial groundbreaking in 2013, both of our nations have moved rapidly to make this project a reality."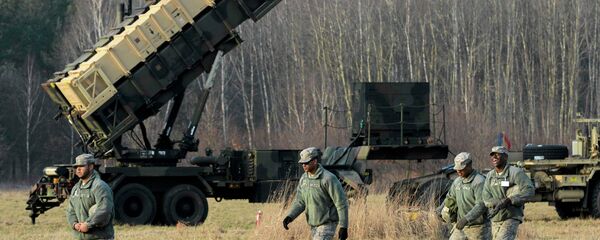 Construction is expected to begin on Friday on a similar base in Poland, scheduled to be completed in 2018.
On Wednesday, US defense envoy to NATO Robert Bell stressed that the missile shield is not aimed at Russia, but is intended to protect NATO in Europe from Iran's increasing ballistic missile capabilities.
Moscow has repeatedly warned that NATO's increasing presence along its borders is provocative and can result in regional and global destabilization.