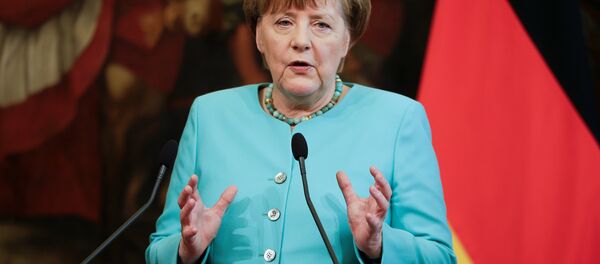 In the survey, conducted by polling company Insa for the German magazine "Cicero," only 36 percent of respondents said they wanted Merkel and her Christian Democrats (CDU) to lead the government after federal elections in 2017.
According to another Insa poll for the newspaper Bild, public support for the CDU and its Bavarian sister party, the Christian Social Union (CSU), has fallen to just over 30 percent.
Meanwhile, the anti-immigrant Alternative for Germany (AfD), has moved from being a marginal party to securing 15 percent support.
Angela Merkel has been criticized for her open door policy on migration, which saw more than 1.1 million migrants, many from the war-torn Middle East, arrive in Germany last year, DW wrote.
In another blow to Merkel, the Bavarian sister party to her Christian Democratic Union is contemplating an even more independent campaign in next year's election than it did in 2013.
At a meeting of the CSU Strategy Commission for the 2017 election, Horst Seehofer, chairman of the CSU and Minister President of Bavaria, reportedly said that if the CDU fails to deal with the growing popularity of the right-wing Alternative for Germany, then the CSU should launch its own election campaign.
The populist AfD, which was initially founded as an anti-bailout alliance in 2013, is now represented in eight of Germany's 16 state parliaments. Even at the national level, the party has made strong gains, with opinion polls suggesting that they now hold between 12 and 14 percent of the vote, DW wrote.