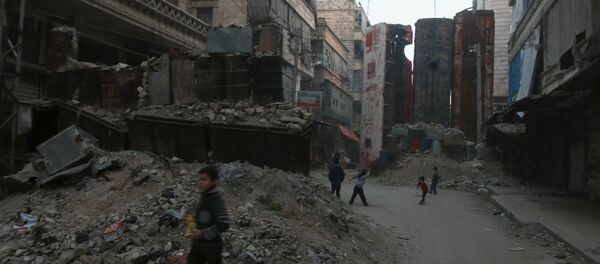 WASHINGTON (Sputnik) — Earlier, Russian Foreign Minister Sergei Lavrov
told Sputnik
that US officials attempted to draw the lines in the new ceasefire accord in a way that would include al-Nusra Front, leading Moscow to believe that someone was using Washington to protect the terrorist group.
Lavrov also told Sputnik that the Turkish government had links to both the al-Nusra Front and Daesh.
"We have seen… troubling cooperation between certain opposition groups and al-Nusra," Kirby stated. "Our message to the armed opposition with respect to al-Nusra and to any perceived or real cooperation or collusion has been, again, consistent. We have made it clear that our expectation is they [opposition] won't do that."
Kirby confirmed that the US government is aware of the reports, when asked about the atrocities committed in an Alawite village, reportedly at the hands of Ahrar ash-Sham and the Nusra Front.
"The initial reports are very… troubling indeed in terms of the violence that were perpetuated on these families," Kirby noted.
Al-Nusra Front and Daesh are designated as terrorist organizations by Russia and the United States, and have been excluded from all previous Syrian ceasefire deals brokered by the two countries.