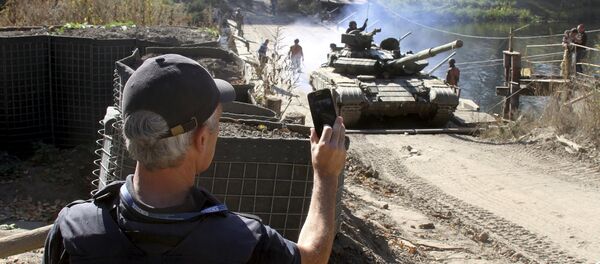 KIEV (Sputnik) — The president added that Donbas restoration must be a priority for Ukraine.
"We are preparing to renew the political process, but it can start only when OSCE international military observers are deployed at the contact line to ensure 100-percent ceasefire, and heavy weapons and artillery will be withdrawn according to the Minsk agreements… When control of the Ukrainian-Russian border will be transferred to the armed OSCE mission and to the Ukrainian border guards after that," Poroshenko said in an address during his visit to eastern Ukrainian city of Kramatorsk.
Kiev authorities launched a military operation against pro-independence militias in eastern Ukraine in 2014. The confrontation has claimed over 9,000 lives, according to the UN estimates.
In late April, 2016, Poroshenko said he expected the OSCE to deploy a police mission in Ukraine's Donbas region in the near future to control the ceasefire.