In an interview with Radio Sputnik, Sophia University Professor Toshihiko Ueno said that even though it would be premature to make any assessments before concrete results had been achieved, the economic cooperation plan proposed by Japan was bound to have a strong impact on the EU.
"Aside from the economic effect it might have, the [eight-point cooperation roadmap] would definitely have a symbolic meaning and eventually lead to a lifting of the anti-Russian economic sanctions by many European countries which are willing to resume mutually-beneficial economic cooperation with Russia," Professor Ueno said.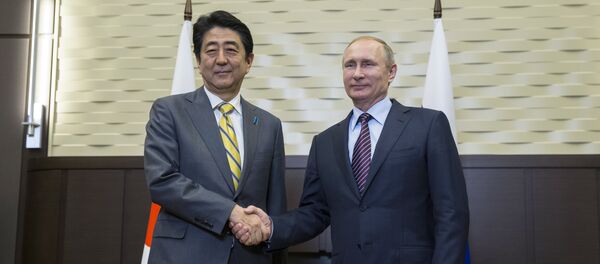 During the Sochi meeting Prime Minister Abe invited Vladimir Putin to discuss the matter in greater detail in his native Yamaguchi Prefecture. Putin readily agreed to come.
When asked about the reason for holding such a meeting away from Tokyo, Professor Ueno said: "It is going to be an informal meeting, so there is nothing unusual about this. Suffice it to mention the November 1998 'no-neckties' informal discussion between President Boris Yeltsin and Prime Minister Ryutaro Hashimoto at Kawana resort southwest of Tokyo."
"Prime Minister Abe believes that with summits often held in St. Petersburg there would be nothing unusual in having one in the Prime Minister's native Yamaguchi Prefecture. Another upside of such 'shirtsleeves' summits is that leaders can meet and talk in a friendly, relaxed atmosphere," Professor Ueno said in conclusion.
The invitation signals a thaw in Russian-Japanese relations, which does not sit well with the United States, Tokyo's key ally and the biggest anti-Russian sanctions advocate.
Earlier in February, President Barack Obama asked Abe to delay his visit to Sochi until after the G7 summit at the end of May. The prime minister, however, chose to go forward with the meeting with Russia's president.
Prime Minister Shinzo Abe's eight-point economic cooperation proposal includes building liquefied natural gas plants, as well as ports, airports, hospitals and other infrastructure, mainly in the Russian Far East.