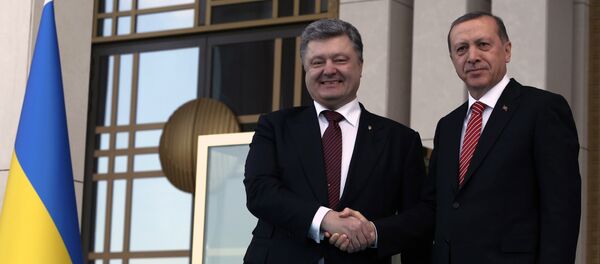 KIEV (Sputnik)
–
Ukraine and Turkey have signed on Monday a military cooperation plan, Ukrainian General Staff said.
"Taking into account the geopolitical situation in the Black Sea region, we are continuing to develop military cooperation with Turkey as a Ukrainian strategic partner. In recent time the cooperation between Ankara and Kiev gained additional weight. Today Ukrainian and Turkish Armed Forces signed an implementation plan of military cooperation," the General Staff said in a statement.
The General Staff says the document would determine areas of military cooperation between the states until 2020. It is also said to contain a number of steps aimed at improving operational capabilities of the Ukrainian army.
"Implementation of practical measures in the military sphere will allow, on the one hand, to strengthen the ties with our southern neighbor, and, on the other hand, to focus efforts on the final goal – Ukrainian readiness to join the NATO in 2020," the General Staff added.
In December 2014, the Ukrainian parliament amended two laws rejecting its neutral status. Ukraine set the goal to be ready for joining NATO in 2020. In mid-December 2015, Ukraine and NATO signed a roadmap on defense-technical cooperation.