WASHINGTON (Sputnik) — On Sunday, The New York Times reported, citing US and European intelligence officials, that al-Qaeda relocated a number of seasoned veterans from Pakistan to Syria to create an alternate headquarters.
"The fact that al-Qaeda has been doggedly hanging on in places like Syria and somewhat resurgent should surprise no one," Heritage Foundation Vice President of Foreign and Defense Policy Studies James Carafano told Sputnik on Monday.
Al-Qaeda has been persistent in many theaters for years, Carafano noted, and its move into Syria is predictable partly because US strategy focused solely on taking out high-level leadership.
"[The US military] spent inadequate effort trying to degrade [al-Qaeda's] underlying infrastructure and networks," Carafano added.
However, the United States, Carafano suggested, should focus its efforts on breaking the Islamic State's territorial control in Iraq instead of deploying resources to Syria, where it will be difficult for the US military to have a substantial positive impact.
"The civil war is likely to drag on in part because as long as Tehran and Moscow are supporting the [Syrian President Bashar] Assad regime, there is little likelihood of a negotiated settlement that would also allow for effectively dealing with the extremist networks," Carafano argued.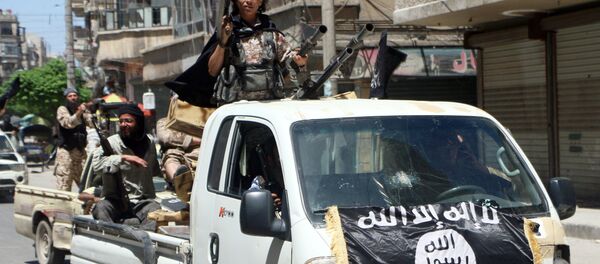 University of Oklahoma Center for Middle East Studies Director Joshua Landis told Sputnik that al-Qaeda's expansion into Syria makes the political transition process even more complicated for Washington in light of the terrorist franchise's links with groups like Ahrar al-Sham and Jaish al-Islam.
"The United States has placed itself in a very difficult situation because many of the rebel groups that it wants to become principal holders of state power in Syria work hand and glove with al-Qaida in Syria," Landis noted.
Cato Institute Defense Studies Research Fellow Benjamin Friedman told Sputnik that al-Qaeda's migration toward Syria will not change US policy dramatically, although it underlines the urgency of going after al-Nusra Front and Daesh.
Al-Qaeda's resurgence should also mean the same thing for groups like Ahrar al-Sham and Jaish al-Islam, if they can split away from the terrorists, Friedman observed.
"Insofar as these groups can be weaned away from al-Nusra and ISIS [Daesh] by including them in negotiations, then it makes sense to do so, regardless of who is coming from further east to help Nusra," Friedman claimed.
Earlier on Monday, US Department of State spokesperson John Kirby said the United States is taking reports about al-Qaeda setting up a headquarters in Syria seriously. Kirby noted, however, that al-Qaeda has had a de facto presence in Syria through its offshoot group — al-Nusra Front.