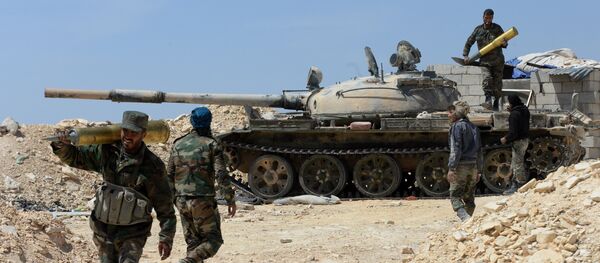 BEIRUT (Sputnik)
–
The Syrian army captured a Daesh jihadist group commander during a raid southeast of Palmyra, a source told Sputnik on Tuesday.
"One of the Daesh commanders has been captured. Documents with Daesh seals identify him as Ahmad Murshid al-Iraqi [were found at the scene]. He was wounded in the leg," the source said
During the course of the raid near Palmyra, scores of terrorists have been killed, including five people from the Caucasus, two Turkish nationals, as well as citizens of Tunisia and Iraq, the source added.
On March 27, forces loyal to Damascus, supported by the Russian Aerospace Forces, liberated the city of Palmyra from Daesh, 10 months after its capture. The terrorist group, outlawed in many countries including Russia, has destroyed a significant part of Palmyra's historic ruins, which are a UNESCO World Heritage site.
Earlier this month, Daesh jihadists captured the major Shaer gas reservoir, near Palmyra, however, on Tuesday the Syrian military managed to cut off a major supply route to the militants there.