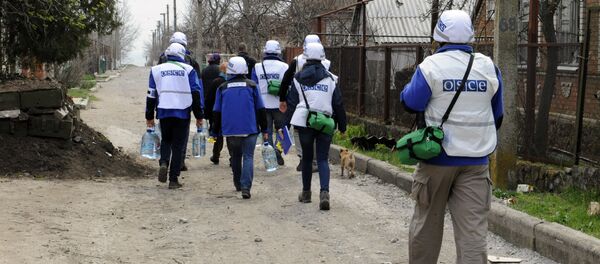 UNITED NATIONS (Sputnik) – The crisis in eastern Ukraine is showing signs of the so-called "frozen conflict," Organization for Security and Co-operation in Europe (OSCE) Secretary General Lamberto Zannier said.
"We see local police, with local uniforms, with emblems that remind us in some way some of the things we have seen in other that we call in OSCE 'frozen conflicts,'" Zannier told reporters at the United Nations.
The official compared the situation in the Donbass region to the events in Transistria, a region with a predominantly Russian and Ukrainian population which broke away from the Soviet republic of Moldova in 1990.
"At the same time however the conflict is not freezing. We are not in the frozen conflict situation because the combats continue on the front line," Zannier stressed.
Kiev authorities launched a military operation against independence militias in eastern Ukraine in 2014. The confrontation has claimed over 9,000 lives, according to the UN estimates.
The OSCE has been tasked with monitoring the implementation of the Minsk deal provisions, which include a full ceasefire, a weapons withdrawal from the line of contact, an all-for-all prisoner exchange, constitutional reforms, including a decentralization of power in the country, and granting special status to the Donetsk and Lugansk regions.