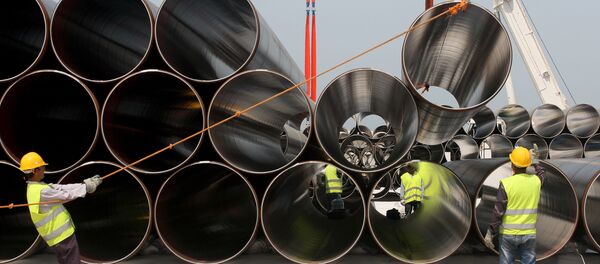 ATHENS (Sputnik)
–
Greek Prime Minister Alexis Tsipras on Tuesday said that he expects Greece's eurozone lenders to complete the review of the country's reforms next week with a view to resumed economic growth later in 2016.
"The first review of the reform program will soon be complete. In the second half of the year, the Greek economy will return to growth," the prime minister said during a ceremony marking the start of Trans Adriatic Pipeline project construction in Thessaloniki, which was shown live by the ERT public broadcaster.
Tsipras added that he expects the 19 eurozone finance ministers, known as the Eurogroup, to ease Greece's debt servicing costs and allow the country to free resources for investment and increasing employment.
On May 9, the Eurogroup met to discuss the Greek bailout, hours after the parliament of the country passed a batch of further austerity measures. The ministers are set to convene again on May 24.
On Saturday, Tsipras said that Greece could complete the bailout program with international creditors before it expires in August 2018.
Greece signed a deal with its creditors, the International Monetary Fund (IMF) and the European Central Bank (ECB) alongside eurozone nations, in July 2015 for a third bailout package worth 86 billion euros ($96 billion) in exchange for unpopular austerity reforms that include pension cuts and tax hikes.
Under two previous bailout programs, the last of which expired on June 30, 2015, Greece received about $270 billion from the IMF, the ECB and eurozone countries. The aid also came in exchange for austerity measures.