WASHINGTON (Sputnik) – Hillary Clinton has suggested in the past that she would accept input from her husband. During a December 2015 debate, she suggested that she would "turn to [her husband], as prior presidents have" for special missions and economic revitalization.
"One would expect that he would play some major role and — in my view, the country would benefit from it," Council of Economic Advisers (CEA) member Jeffrey Frankel told RIA Novosti on Monday.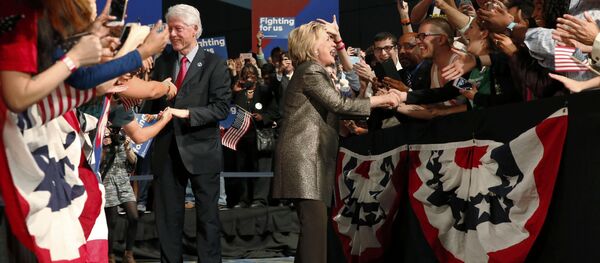 While campaigning in the US state of Kentucky over the weekend, Democratic presidential frontrunner Hillary Clinton suggested that her husband Bill, the 42nd president of the United States, could play a role in her administration running economic policy.
"Having a former president as the spouse of a new president is obviously without any sort of precedent. I can't predict what would be the precise nature of Bill's role in a Hillary Clinton administration," Frankel, a professor at the Kennedy School of Government at Harvard University said.
However, Bill Clinton is likely to be "good'"in helping craft US economic policy, Harvard Kennedy School Professor of International Trade and Investment Robert Lawrence told RIA Novosti.
"II will say that, having worked with him, President Clinton is an extremely good economist," Lawrence said. "He certainly is capable of making a positive contribution… He's really good on economic questions."
In his eight years as US president from 1993 to 2001, Bill Clinton always wanted his advisers to give him different opinions. He wanted to know the argument against the positions that were being advocated, Lawrence recalled.
"He was a voracious consumer of all the analysis that the Council of Economic Advisers produced and he could synthesize and express the results better than economists could," he added.
However, Lawrence also cautioned that the position Clinton could hold and the nature of his input into the economic policymaking process was far from clear.
"I have no idea exactly what his specific role will be… It's hard to predict the dynamic… I don't know the way in which — formally or informally — they [Bill and Hillary Clinton] will interact with the officials," Lawrence cautioned.
Critics of both Clinton's, including Republican presumptive candidate Donald Trump have pointed out that as president, Bill Clinton pushed through the 1994 North American Free Trade Agreement (NAFTA) and also engineered China's entry into the World Trade Organization (WTO) in 2000.
Both those moves are now widely believed within the United States to have cost the country many millions of well-paying industrial jobs.