TOKYO (Sputnik) — Earlier in May, Abe visited Russia's resort city of Sochi, held talks with Putin and presented the eight-point bilateral economic plan between the two countries, which covers such areas as oil and gas development and the modernization of ports and airports in the Far East.
"Japan pays significant attention to the relations with Russia, which is, in particular, reflected in the cooperation plan proposed at the highest level meeting, which includes eight points regarding the energy sector and industrial development in the Far East. While promoting this plan we are seeking to reach a general development of the Japan-Russia relations," Suga said at a meeting with Yury Trutnev, the Russian deputy prime minister and presidential plenipotentiary envoy to the Far Eastern Federal District, as quoted by the NHK TV broadcaster.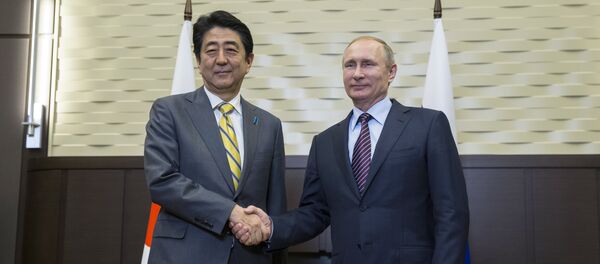 According to Suga, the sides discussed Japanese companies' participation in the development of the Far East.
Trutnev, meanwhile, told reporters that during the meeting, the sides had discussed some issues of the Japanese companies' investments to the Far East. The officials reached an understanding that it was necessary to achieve some progress regarding these issues before the Eastern Economic Forum scheduled for September 2-3 in Russia's Vladivostok.
Putin has already invited Abe to the forum.