MOSCOW (Sputnik) — At the same time, according to the suspended president, there are no signs of external interference in the current political situation in Brazil.
"Impeachment is provided by the constitution to our country, but only in the case of crimes [committed by president] such as president's crime against the constitution or human rights. We consider that it is a coup, as there was not any crime," Rousseff told the RT broadcaster in an interview.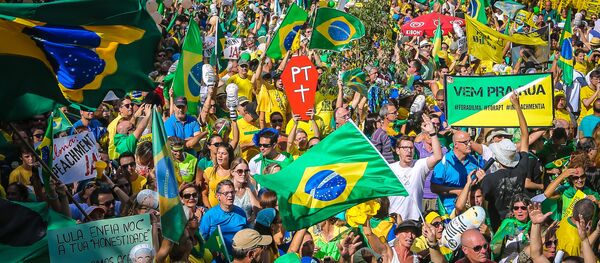 Rousseff is being accused of using state bank debt
to cover
a state budget deficit.
"All previous presidents did the same. It has never been a crime and it will not become a crime now. There are now preconditions to consider it a crime," Rousseff said.
The upper house of the Brazilian parliament voted 55-22 earlier in May to start impeachment proceedings against Rousseff after she was accused of concealing the country's budget deficit ahead of the 2014 re-election.
The 68-year-old has been suspended from office for 180 days, pending trial. Vice President Michel Temer is assuming presidency during that period.