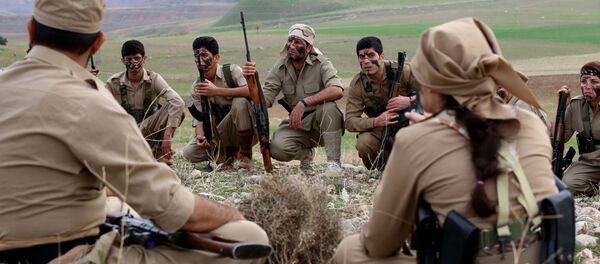 SULAYMANIYAH (Iraq) (Sputnik)
–
Residents of the northern Iraqi province of Kirkuk want the region to be a part of Iraqi Kurdistan, a spokesman for the Patriotic Union of Kurdistan (PUK) said.
"We support the principles of territorial integrity of Iraq, but its territorial integrity is threatened by the Iraqis themselves. If we maintain the territorial integrity of Iraq, what is the difference if Kirkuk is a part of Iraqi Kurdistan or the rest of Iraq? But as the province's residents speak the same [Kurdish] language, they want to be part of Iraqi Kurdistan," Saadi Ahmed Pira told RIA Novosti.
The Iraqi Kurdistan autonomous region in the country's north is a part of the historic Kurdish region, parts of which also belong to Syria, Iran and Turkey. The region has its own government, parliament and armed forces.
Baghdad and the Kurdish autonomy have been disputing Kirkuk, de facto controlled by Kurds, since 1970s. The affiliation of the region, which holds the most part of the Iraqi oil reserves, was to be decided at the 2007 referendum, but the vote had been postponed several times before Islamic State (IS) jihadist group launched an assault on the province in June 2014.
IS extremist group, outlawed in a number of countries worldwide, including Russia, has taken control of large parts of Iraq and Syria since 2014.