SOCHI (Sputnik) — He added that Cambodia has many sectors for potential investment, which highlights a competitive advantage of the country. These sectors include, for example, agriculture, agro-industry, manufacturing industry and assembling lines.
"Cambodia sees Russia as a key player in reconstruction of the Cambodian economy. We welcome the Russian private sector investment," Hun Sen told reporters.
Earlier this week. Sergey Kirienko, the CEO of Russia's state nuclear energy corporation Rosatom, and Cambodian Environment Minister Say Samal signed a memorandum of understanding on the peaceful use of nuclear energy.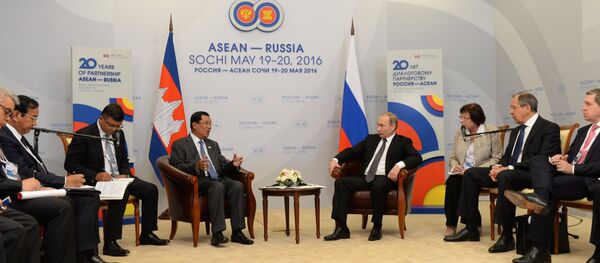 On Thursday, Russian Deputy Foreign Minister Igor Morgulov said that Cambodia along with Singapore, Indonesia and Thailand are interested in creating a free trade zone with the Eurasian Economic Union.
On May 19-20, the Russian resort city of Sochi hosts the Russia-ASEAN summit. ASEAN comprises Indonesia, Malaysia, the Philippines, Singapore, Thailand, Brunei, Cambodia, Laos, Myanmar and Vietnam.