SULEIMANIA (Iraq), (Sputnik) – Up to 70 Daesh militants were killed in internal fighting in the de-facto Daesh capital of Raqqa in northern Syria, the Patriotic Union of Kurdistan (PUK) said Saturday.
"Witnesses inside Raqqa stated that violent clashes took place between the battalions of [Daesh leader Abu Bakr] Baghdadi and Qassimi, resulting in the killing of 70 militants. It is said that none of the killed militants are Syrian citizens," the PUK media center said.
Kurdish defense units were said to consolidate 23 miles north of Raqqa in preparation for a planned offensive. Daesh terrorists retreated from their positions without resistance, while unmanned aerial vehicles carried out airstrikes.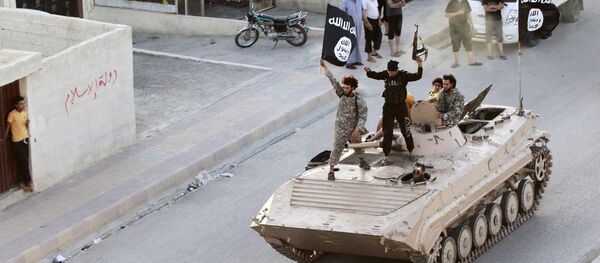 Daesh, a radical Sunni group banned in many countries including Russia, has seized vast areas in Iraq and Syria, taking control of the Syrian city of Raqqa in 2013.
Sputnik Arabic reported in the early hours of Saturday, citing eyewitnesses and local sources, that Daesh militants began evacuating their families in the direction of Deir ez-Zor ahead of the Kurdish-led Syrian Democratic Forces' (SDF) liberation campaign.
The families of foreign mercenaries were the first ones to leave the city on Friday afternoon. Inmates have been let free from Raqqa prisons.