ST. PETERSBURG (Sputnik) — Russia's State Hermitage Museum in St. Petersburg is planning to take part in all possible activities to restore Syria's Palmyra, the museum's head Mikhail Piotrovsky said Saturday.
"Hermitage is going take part in all works that will be proposed and conducted – from ground surveying to fixing memorials, restoration of sculptures and so on," Piotrovsky told journalists.
Piotrovsky noted that all works on Palmyra's restoration might start only when the environment on site would be safe.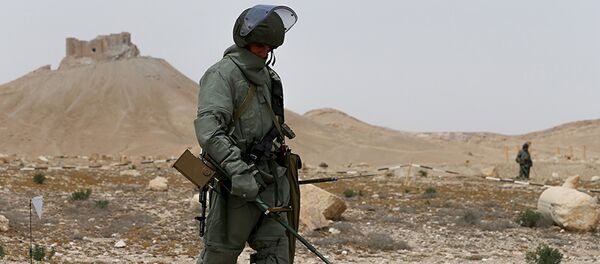 On March 27, forces loyal to Damascus,
supported
by the Russian Aerospace Forces,
liberated the city of Palmyra from Daesh
, 10 months after its capture. The terrorist group, outlawed in many countries including Russia, has
destroyed
a significant part of Palmyra's historic ruins, which have been declared the World Heritage site of the United Nations Educational, Scientific and Cultural Organization (UNESCO).
According to preliminary estimates, one fifth of ancient Palmyra was destroyed, while many exhibits were looted from museums. It could take around five years to restore the city.
In early May, an international delegation of the UNESCO permanent representatives carried out an inspection of Palmyra and pledged to recreate not only the ancient Syrian city but also other historic sites destroyed by Daesh.