According to reports, the Turkish military started building fortifications using bulldozers on the Syrian territory in the areas belonging to private individuals.
"Today, around 9:45 local time, the Turkish military, moving from the district of Nusaybin and accompanied by a bulldozer, two tanks and several trucks, invaded Rozhava (located in Syrian Kurdistan) near the city of Al-Qamishli," the media center reported.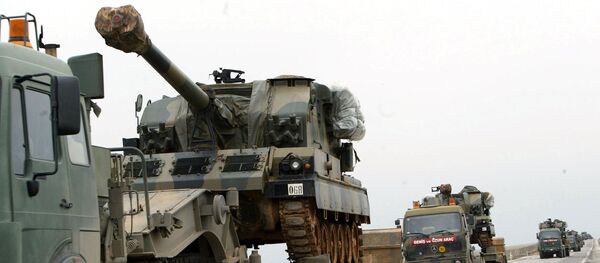 Throughout 2016 there have been growing signs of Ankara's intention to deploy ground forces in Syria. In February, the Russian government reported "a growing number of signs of hidden preparation by the Turkish armed forces to carry out active operations in Syria."
Illegal crossings of the Syrian border by the Turkish military were also registered in March in the northwestern regions of the country, near the cities of Afrin and Azaz, where the Turkish soldiers were reportedly building fortifications to protect their borders against Kurdish fighters.
On Thursday, President Erdogan gave further indication that his government is actively considering the deployment of troops in Syria.
Nusaybin is a city in southeastern Syria. Since the beginning of the year, it has witnessed fierce fighting between Kurdish rebels and the Turkish military. Nusaybin borders the Syrian city of Al-Qamishli, which is considered the "capital" of the Syrian Kurds.