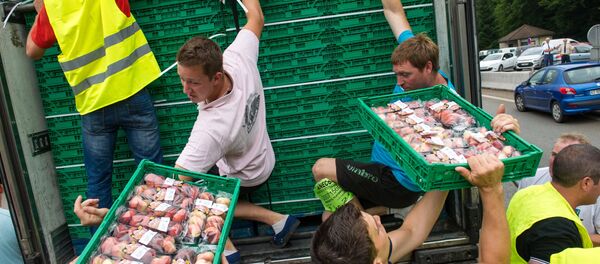 Russia introduced an embargo on food imports from a number of EU countries in response to the economic sanctions imposed by the West amid Moscow's alleged involvement in the Ukrainian crisis.
The measure had drastic consequences for the European economy, with prices of several European agricultural products noticeably falling after the introduction of the embargo, German farmer Ludwig Börger said in an interview with the newspaper.
"In 2013-2014 we had milk production prices in Germany, which exceeded the level of 40 cents. The highest price was about 41.2 cents," Börger said. "Now we are at a level of 23 cents. This is of course not only because of the Russian embargo, but it [the embargo] is an important factor," he added.
According to Börger, the Russian market has always been of great importance to Germany. The dairy industry has been especially relevant, as "Russia remains an important cheese importer and Germany is one of the major cheese producers worldwide," Börger said.
The farmer fears that even if the sanctions are lifted German farmers won't be able to return to the export volumes they previously had with Russia.
"Russia has not only introduced the embargo, but its national economy very much depends on the commodity markets, in particular oil and gas prices. So we do not anticipate that we will immediately have market share or sales potential we had before. We can't assume that we'll have the same trade volumes as we previously had," Börger stated.
Russia announced a one-year food embargo in August 2014 on products originating in states that imposed sanctions against it, extending the ban into another year. European farmers have since staged regular protests decrying overproduction and losses sustained from the Russian food embargo.