"Votel is a very high-ranking if not the highest-ranking General and therefore he will be allowed into the most secure areas, which suggests that in a sense the enclave has become a US base inside Syria which is already an illegal action to set up a military base inside sovereign territory."
Beeley further said that fundamentally over the past five years all regime change projects have failed.
"We started with the democratic revolution which was supported by NATO, the US and the gulf which is being exposed for what it really is: a farce. Then we had the sectarian argument that they were protecting minorities when in reality it has been proven that the Syrian government and the Syrian Arab Army is the only life insurance for the minorities on the ground in Syria under attack by the US, NATO proxy terrorist factions."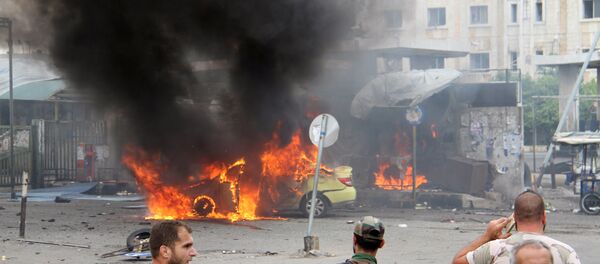 The journalist said that right now there is a push for Plan B, which has always been Plan A, which is to balkanize and create a sectarian state within Syria to undermine and fragment the unity of the Syrian people.
"This is basically a separatist movement that they are creating with YPG, which we know consists of predominantly Kurdish factions, probably 80 to 90%, with very little Arab inclusion in there. So it is very clear that it is an attempt to create a shadow state inside Syria. We see the UK funding the so-called Free Syrian Police."
"The Canadian and Qatari governments are funding the local administration council so it is trying to divert government away from the Syrian government itself. The undercover UK foreign office and CIA outsource mercenaries under the guise of humanitarians, such as, The White Helmets. So there are other boots on the ground in Syria."
According to the journalist, all of this is to achieve regime change in Syria and also to "balkanize Syria and create sectarian states in the country."
Talking about the recent deadly attacks in the Syrian cities of Tartus and Latakia, Beeley said, "According to reports coming from Latakia, the attack was carried out by Ahrar ash-Sham. I have been told that this is probably one of the worst suicide attacks of the five years of the war against Syria."
"If Ahrar ash-Sham is responsible for these attacks then that directly puts the US in line for being accused of criminal terrorism in Syria. They have consistently supported Ahrar ash-Sham as being 'moderates' and when they refused to allow Russia to designate Ahrar ash- Sham and Daesh as terrorist organizations, we had a massacre in the area around Hama and Homs."
"How many massacres have to be carried out against the Syrian people before the international community turns around and accuses the United States of the terrorism that they are perpetrating in a sovereign nation? Beeley stressed.