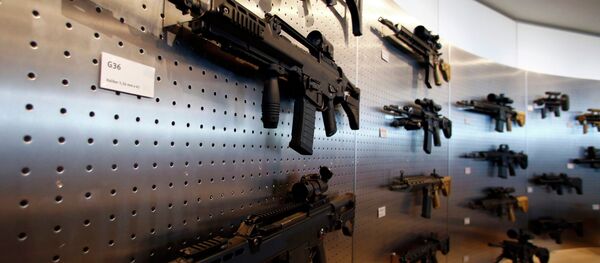 The film, based on Kyle's memoir of being a Navy SEAL, is the highest grossing American war movie of all time, but documents obtained by The Intercept prove that, at best, the author may not have been truthful.
"All told," Kyle wrote in his book, "I would end my career as a SEAL with two Silver Stars and five Bronze [Stars], all for valor."
According to official military records and confirmed by Navy officials, Kyle, known as the deadliest sniper in US military history, received one Silver Star and three Bronze Stars with Valor. A Navy official told The Intercept that Kyle was spoken to at least once by an official who warned him that his medal count was inaccurate.
Oddly, Kyle's separation document, or DD214, listed two Silver Stars and six Bronze Stars, more medals than he documented in his book.

29 January 2015, 09:49 GMT
"The form DD214 is generated locally at the command where the service member is separated," Cullen James, a spokesperson for the Navy Personnel Command, told The Intercept. "Although the information on the DD214 should match the official records, the process involves people and inevitably some errors may occur."
But it's not the only fabrication found in the book.
In 2014, a year after Kyle was murdered by a mentally-ill US military veteran, a jury ruled that he had lied in his book regarding claims that he punched former Minnesota Governor Jesse Ventura at a bar in Coronado, California.
Ventura was awarded $1.8 million in damages, to be paid by Kyle's widow, who is currently appealing the ruling.
One ex-SEAL acknowledged to The Intercept that officials knew of Kyle's embellishments, but kept it under wraps as it brought glory to the Navy's special operations community, saying they "didn't want to correct the record because Kyle's celebrity status reflected well on the command."
"Everybody went on a pilgrimage to his funeral at Cowboys Stadium," the former SEAL said, "knowing full well his claims weren't true."