New Delhi (Sputnik) – The ongoing Rafale saga seems to be in the doldrums once more, as whatever India has proposed so far it has been disposed of by the French government. France has also rejected a bank guarantee for the deal.
Dassault Aviation initially offered to sell 36 Rafale fighter aircraft for around 10.5 billion euros but the Indian government has asked for a 30 percent discount. The issue over the price has so far proved to be a sticking point in the deal.
Now in a fresh move to clear the stalled Rafale deal, the French government has offered a new price and French Defense Minister Jean-Yves Le Drian has written a letter to Indian Defense Minister Manohar Parrikar regarding the deal. According to the defense ministry sources, France has now offered to sell 36 fighters for 7.8 billion euros which is around 7 percent less than the original price offered by Dassault Aviation.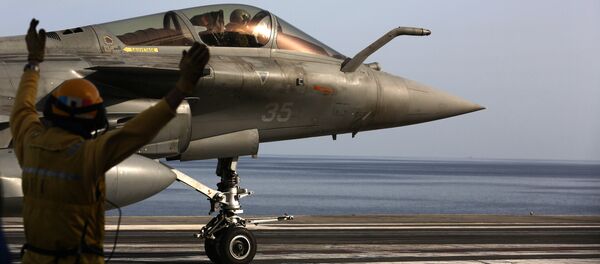 But according to Defense Ministry sources, the Indian government has found the latest offer quite different from the earlier one as it contained product support only for five years instead of ten years envisaged in the earlier agreement. Additionally, the latest offer also ignores the cost of setting up infrastructure at two airbases for two Rafale squadrons.
According to the Defense Ministry sources, the Indian government considers it has nothing to gain from the latest French offer, where price has been slashed at the cost of product support which is an essential component of the Rafale deal.
India is also concerned that the French government has rejected India's request for a bank guarantee for the deal.
The Rafale deal is unlikely to be resolved in the near future as France will go into election mode soon and the deal will take a back seat.