Discussing the political deadlock which has emerged between Brussels and Warsaw over the ill-fated reforms to Poland's Constitutional Court, the Brussels-based weekly wrote that both sides have now dug in, and the chances are growing slim that "a way out of the stalemate can be found."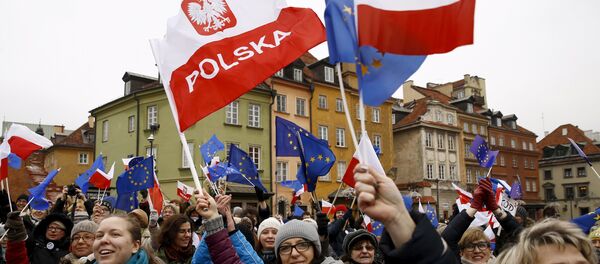 Despite widespread recognition in Europe that the European Commission's
'rule of law'
probe probably won't result in any official sanctions against Poland, "there are still plenty of politicians who say Brussels should step up pressure to isolate a country many see as violating the EU's fundamental rights," Politico noted.
At the same time, "the Commission's most recent effort to put its foot down – setting a deadline for the Polish government to bring itself into line or else face the threat of an 'opinion' from Brussels that sanctions might be needed – backfired spectacularly. Polish politicians reacted harshly, accusing EU bureaucrats of meddling in their internal politics. Brussels responded by backing away from its deadline [which passed on Monday] and giving Warsaw more time."
Travelling to Warsaw earlier this week, EC First Vice-President Frans Timmermans back-peddled on Brussels' earlier demands, telling Polish Prime Minister Beata Szydlo that he "fully agree[d] with the Polish prime minister when she says this is only a Polish problem and that we can find a Polish solution." Earlier, Dzydlo told parliament that "it's not Poland which has a problem with the EC, [but] the EC which has the problem."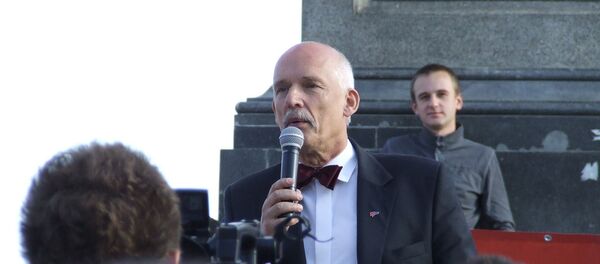 Meanwhile, diplomats speaking to Politico Europe insisted that the Polish government's populism must be put in check before the situation gets out of control, adding that the EU has several major tools at its disposal for doing so, including tightening scrutiny over EU subsidies provided to Warsaw.
Speaking to the paper, MEP Viviane Reding emphasized that Brussels should not allow Warsaw's "authoritarian drift" to continue without a response. "In no way does this amount to interfering in Poland's internal matters," she emphasized. "Our common treaty values, such as the respect for the rule of law, are indivisible: if one member state disrespects those values, this regards all of us."
© AP Photo / Czarek Sokolowski
Anti-EU catholic activists raise crosses as opponents of Poland's government march to protest the country's direction under a conservative government. Warsaw, Saturday, May 7, 2016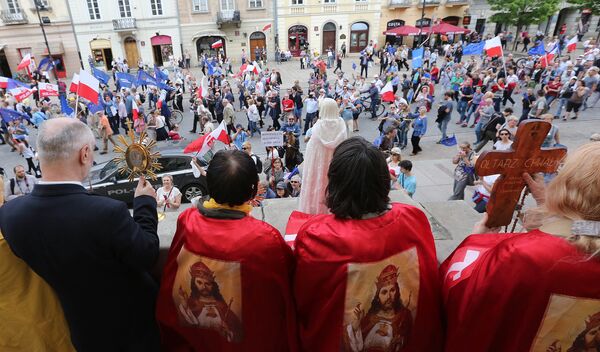 Anti-EU catholic activists raise crosses as opponents of Poland's government march to protest the country's direction under a conservative government. Warsaw, Saturday, May 7, 2016
© AP Photo / Czarek Sokolowski
Meanwhile, Alain Lamassoure, another MEP, who serves on the parliament's Economic and Monetary Affairs Committee, went even further, saying that the Polish case "is among other examples in the EU of the rise of extremist and populist parties which have prospered on hatred and xenophobia."
The EU's €14 billion in subsidies to Poland's farming, coal, energy and financial sectors may just be the 'trump card' the bloc needs, the lawmaker noted. At the same time, he added, Warsaw's allies from across the ocean may also come into play to restrain the Poles during the NATO summit in Warsaw in July. "If we have the Commission, the European Parliament, and Obama raising concerns about the Polish government, we hope that it will result in the country's progressive isolation," Lamassoure said.

Commenting on exactly how cuts in EU subsidies could work, one anonymous diplomat said that it would be "very easy" for Brussels to conduct a "very deep scrutiny of the way the funds are asked for and used." For the Commission to act this way "it would not require any formal decision, and at that point for Warsaw it would be very hard to continue being a successful recipient of these funds."
"That's the only fear of the [Polish government]: an economic retaliation which, according to them, will take form in this way," the diplomat added.
'Not Clever'
Meanwhile, another anonymous diplomat, this one from Eastern Europe told Politico Europe that what the EC is doing, and threatening to do, is "not clever."
"The more public pressure they create, the more difficult it is for the Polish government to make any concession. This could be solved in an easier way. I'm afraid that this offensive approach can prolong the case." The diplomat did not indicate what this 'easier way' might be.

Late last year, Polish President Andrzej Duda approved amendments to laws on Poland's Constitutional Court, handing some of the Court's powers to the President and the Ministry of Justice. Other changes included increasing the number of justices from 9 to 15, and instituting a two-thirds majority rule for rulings.
On January 13, the European Commission announced that it would be holding a dialogue with Warsaw aimed at preventing what it said was a violation of European democratic norms. If a compromise between Warsaw and Brussels is not reached, Poland could lose its right to vote in the Council of the European Union.