HOLY MOUNT ATHOS (Sputnik) – Addressing representatives of the Holy Kinot, Athos' high governing council, Putin noted the role of a common religion that allowed Russia and Greece to overcome and defeat difficulties through generations.
"I am confident that relations between Russia and the Holy Mount Athos, and Greece as a whole, will only strengthen, while the spiritual relationship and trust will continue to determine the nature of our traditionally close and friendly relations," Putin said.
© Sputnik / Alexei Druzhinin
 / Go to the mediabank
May 28, 2016. Russian President Vladimir Putin visits Mount Athos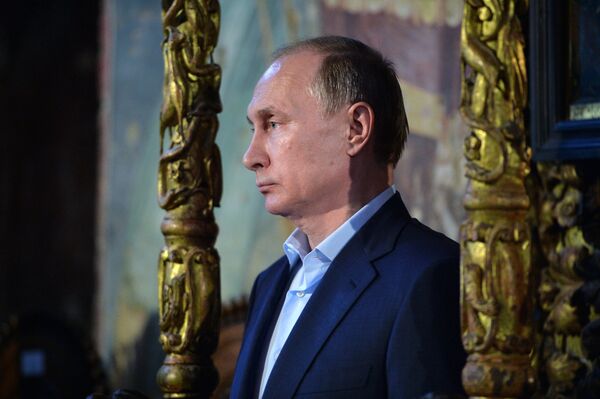 May 28, 2016. Russian President Vladimir Putin visits Mount Athos
© Sputnik / Alexei Druzhinin
/
"An important indication of the growing Russian-Athos relations are Athos relics that are brought to our country to worship," the Russian head of state said, listing the Belt of our Blessed Virgin Mary from the Monastery of Vatopedi and St. George the Victorious' right hand from the Monastery of Xenophon.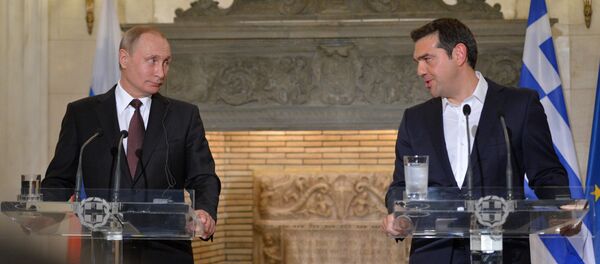 "Hundreds of thousands of Orthodox Russians were able to venerate them. We hope that this high noble mission of Mount Athos and Mount Athos' monasteries will continue," Putin stressed.
Noting the 1,000 years since Russian presence at the northeastern Greek peninsula, Putin classified Mount Athos a "unique center of Orthodoxy and Christianity" that preserved and expanded its spiritual traditions and shared values.
"Reviving the values of patriotism, historical memory, traditional culture, we look forward to strengthening our relations with Athos. It is encouraging that every year it is visited by an increasing number of pilgrims from Russia, already more than 11,000 a year," he added.
Toward the end of the visit, the sides exchanged gifts – a copy of the Icon of the Savior at the Protaton church from Athos and Michael IV the Pahlagonian's imperial menology covering February and March from Moscow, Russia.
Russia has additionally presented a commemorative medal issued for the 1,000th anniversary of Russian monasticism on Mount Athos.