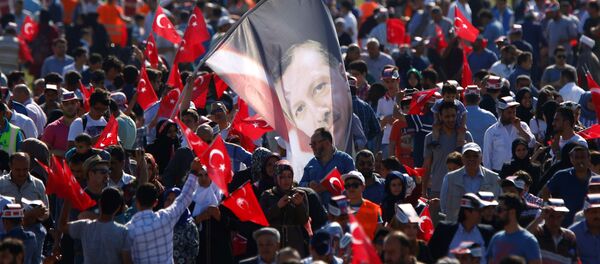 ANKARA (Sputnik) — The Turkish government will present a draft bill on country's transition to a presidential system to parliament "in the coming days," Turkish Deputy Prime Minister and Government's Spokesman Numan Kurtulmus said Monday.
"One of the priorities of the new government is to focus on a new constitution and political reforms. It is a mandate given by the people. A new constitution has been discussed since 1980 takeover. The Turkish government will pass its proposals on transition to presidential system in the coming days," Kurtulmus told journalists at the breefing.
Turkish President Recep Tayyip Erdogan seeks to hold a referendum to abandon the parliamentary system established in Turkey by the 1923 Constitution in favor of an executive presidency. The country's opposition is against Erdogan's proposal accusing him of attempts to establish the individual power regime.